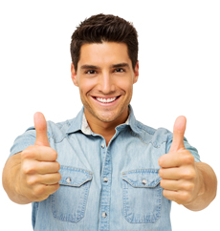 Read patient reviews for Dr. Patel and Colton Family Dental.
We think you can tell a lot about dentists in the Colton area from their patient reviews. Dr. Devang Patel and the staff at Colton Family Dental are proud that our commitment to excellence in general dentistry and cosmetic dentistry has earned so many positive reviews. See for yourself what actual patients say about their experience with Dr. Patel.
Recent reviews for Devang Patel, DDS
Based on 4 reviews
America M. via Yelp
Sep 21 2017
This place is amazing. I have been putting off my dental work because i was 100% terrified of dentist, but this dental office changed my view completely of...
Read more
C N. via Yelp
May 26 2017
I am so lucky to have been recommended to Dr. Patel. I was looking for a dentist and although he is out of my way ( I live in Covina) he is absolutely worth...
Read more
Kellye L. via Yelp
Jul 23 2016
I am super picky when it comes to who I allow to work in my mouth. After years of looking for a dentist I've finally found a dentist! The entire staff is...
Read more